Delta
Three flutes can be better than four.
3 Flute general design for machining stainless.

Features
Certain applications benefit from a high performance end mill that has three flutes. Often normally only available in a general design and for non-ferrous materials from other manufacturers, our Delta range fits the bill when machining stainless.
A very capable tool, Delta is designed to work in a wide range of component materials. The additional feature of extended reach increases the versatility of the tool. It is ideal for aggressive slotting, pocketing and ramping due to increased chip clearance and reduced harmonics.
When considering which tool to use, understanding the pros and cons of the number of flutes should be taken into consideration. The higher number of flutes generally allows a higher feed rate per tooth, but a high flute count means a larger core and smaller flute depth.
For example a three flute tool has a smaller core and larger flute space than an eight flute tool, providing more room for the chips to be ejected. Operations such as slotting and horizontal milling on driven tooling benefit from this tool.
Benefits
Higher feeds & speeds
Higher wear resistance
Vibration suppression
Increased material removal rates
Efficient chip removal
Low cutting forces
Excellent finish
Can be remanufactured many times
High rigidity
Application
Slotting
Side Finishing
Profile Milling
Ramping
Trochoidal Milling
Pocket Milling
Side Roughing
Helical Milling
DOWNLOAD BROCHURE
For more information about Delta, Mirage and Mirage Super download our brochure
DOWNLOAD
Create the perfect tool for your job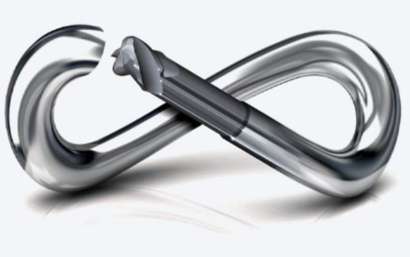 Can't find what you need in our standard Delta range? Simply provide your tool specification here and we will provide you with a quotation*
*Minimum of three order quantity
What happens next?
Once you submit your tool specification, our team will review and supply a quotation via email for the quantity specified.
From approval of your order, dispatch is usually 2 to 3 weeks, with a priority service available at extra charge.
All bespoke tools are non-refundable.