Mirage
A cut above the rest.
Designed for multiple applications in a wide range of materials especially stainless steel, titanium and super alloys, our Mirage 4 flute end mill provides unrivalled high performance.

Features
Ideal for trochoidal milling strategies (also known as dynamic milling, peeling cut and chip thinning) where a smaller chip is required, Quickgrind's chip breaker form can be produced on any of our tooling ranges, featured here on the Mirage.
Mirage chip breakers are ideally suited for machining stainless steels, duplex steels, titanium and other super alloys where a high MRR is required.
Trochoidal milling allows for full fl ute engagement with step overs (ae) of anything from 5% to 15% in super alloys/ stainless steel. This strategy will produce long, thin swarf which can cause issues. In this case we recommend having chip breakers which will provide a more secure cutting action, especially helpful when you want to reduce your cycle time by machining to full depth in one pass rather than two or three.
This in turn will require a longer than standard fl ute length, and with our Infinite Possibilities® programme we can provide you with exactly the cutter you need. For example you can have a 12mm diameter tool with 36.00mm or 40.00mm flute length rather than the usual 26.00mm.
Suitable for trochoidal milling, Mirage allows for full flute engagement with step overs (a e ) of anything from ≤ 5% to ≥15% in super alloys/stainless steel depending on the CAM software and machine parameters.
Benefits
Higher feeds and speeds
Higher wear resistance
Vibration suppression
Increased material removal rates
Better swarf/chip management
Application
Slotting
Side Finishing
Profile Milling
Ramping
Trochoidal Milling
Pocket Milling
Side Roughing
Helical Milling
DOWNLOAD BROCHURE
For more infromation about Mirage, Mirage Super and Delta download our brochure
DOWNLOAD
Create the perfect tool for your job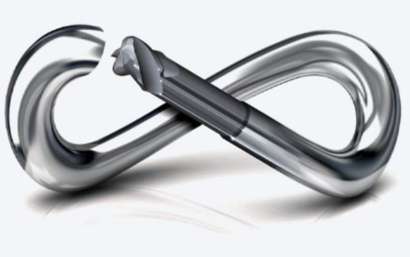 Can't find what you need in our standard Mirage range? Simply provide your tool specification here and we will provide you with a quotation*
*Minimum of three order quantity
What happens next?
Once you submit your tool specification, our team will review and supply a quotation via email for the quantity specified.
From approval of your order, dispatch is usually 2 to 3 weeks, with a priority service available at extra charge.
All bespoke tools are non-refundable.