Quickgrind and Partners host Machining day at AMAC
January 5, 2023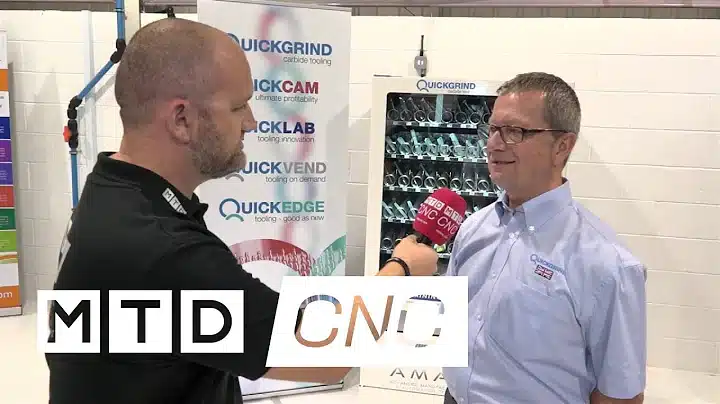 Quickgrind recently hosted a technology event at the Advanced Manufacturing and Automation Centre (AMAC) in Blackburn to demonstrate advanced cutting tool solutions.
The banner on the building identifies the AMAC as 'A unique, world class engineering and manufacturing environment in the heart of Lancashire' and judging by the technology at the facility, the statement is certainly 'on the money'.
Central to the event was Tewkesbury cutting tool manufacturer Quickgrind. Discussing the event, Quickgrind's Mike Stobart said: "We are running demonstrations in partnership with the likes of SCHUNK and OPEN MIND and the purpose is to bring people together to understand what AMAC is about."
Referring to the delivery goals of the AMAC, Mark Aspinall of the AMAC says: "The AMAC has been set up for training, improving apprentice levels and experience, research and development and much more. What we are doing at this event is showcasing the different suppliers and technology as we have invested in high-end machining centres, CAD/CAM software and inspection equipment, because that is what industry needs." Alluding to the Quickgrind participation at the event, Mike continues: "We are supplying the cutting tools for the demos and showing barrel tooling, lollipop cutters and trochoidal milling.
These are all programmed by John Butler from our QuickCAM Pro division and the idea is to show people locally what can be done through partnerships." Graeme Hogg from Quickgrind says: "We have been planning this event for a while and we will be doing many more. The demonstration part machined on a 5-axis machining centre is using a lollipop tool and OPEN MIND CAM software to apply a lot of strategies that include movements that look like the job is going through full 90 degrees and the test part incorporates 5-axis helical drilling, barrel tool strategies and trochoidal cutting. Programmed by Quickgrind's John Butler, the demo part shows the capabilities of collaborative machining, CAM and tooling technology.
The test part at this event was programmed by John Butler and it demonstrates our expertise and flexibility and how we don't necessarily have to depend on third party support to deliver solutions." "Having technical expertise in CAM means that we can work ever closer to deliver solutions for the customer and we don't have to depend upon the availability of external parties. This makes the Quickgrind service delivery a lot smoother and gives us better interaction with the customers."
Discussing the barrel milling technology, Simon Docker from OPEN MIND says: "This is what an event like this is all about. You can read the press on hyperMILL delivering potential cycle time savings of 90%, but at events like this we are actually showing it to industry where people can see it for themselves and believe it."